Ciconia's exclusive journeys in Egypt present the ultimate travel experience with unmatched sights of beauty. Home to impressive civilizations for millennia, journey in premium comfort along the life-giving Nile through the exotic lands of Pyramids, pharaohs and their gorgeous temples. Each of our exclusive journeys is well-paced for you to enjoy your cultural discovery with personal leisure time aplenty. With our unique itineraries, sail in style on a Nile cruiser as you soak in marvellous sights along the bank of the Nile. Engage and connect with the local culture through authentic experiences. Treat yourself to the diverse landscape of wonders all around Egypt and a recharging rest at the Red Sea paradise of Dahab.
Change to Map View
Change to Image View

Capital City: Cairo
Population: 102.674.145
Language: Egyptian Arabic
Area: 1,010,408 km2
Currency: Egyptian Pound
Time Zone: UTC+2
County Code: +20
Government: Unitary semi-presidential republic
Flag: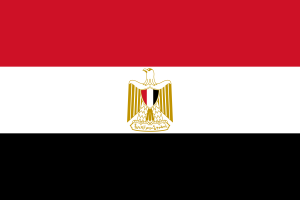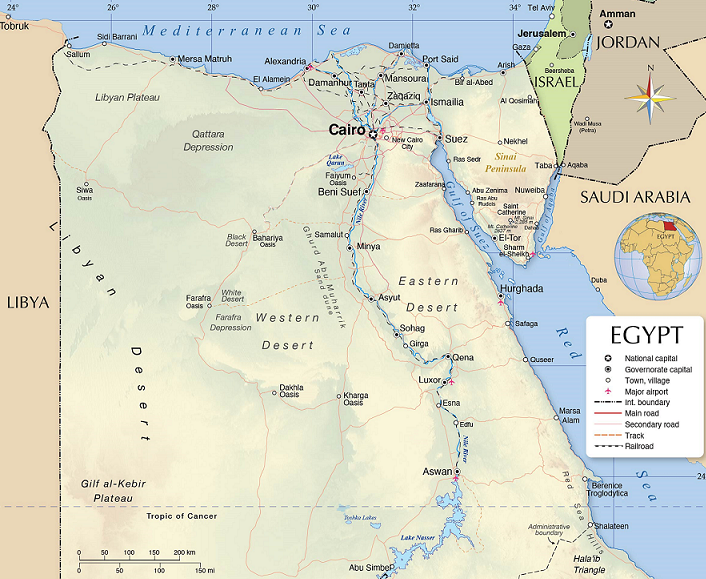 January is the coolest month in Egypt, although the temperature hardly falls below 49°F.
The weather is comfortably warm from January to March, with occasional rains on the coast. It is one of the most popular seasons in Egypt since visiting the Pyramids of Giza becomes easy due to moderate temperatures.
Temperatures begin to rise in April and May across the country, but the weather is still comfortable enough for sightseeing and exploring the cities. It is also a popular season before the inland becomes too hot. The sky might be a bit dusty in April since the khamaseen hot sand winds blow in short periods, but it doesn't cause discomfort. Spring celebrations begin during Easter, which makes it a vibrant time to visit Egypt.
Around June, daily temperatures go up to 90°F as the continental heat sweeps in. June might be the best time to visit Egypt before the scorching heat begins, especially for enjoying the activities on the Nile and in coastal cities.
July and August are the hottest months in Egypt, with the daytime temperatures rising to 110°F and above.
Similar to June, September is an ideal month to visit Egypt. The heat of summer is still there, but the weather is breezy and more comfortable. It is less busy compared to summer and autumn.
Similar to spring, the weather in Egypt is warm and sunny throughout October-December. It is the best time to visit Egypt's landmarks without the heat and the sandstorms. The cities get more crowded as Christmas and the New Year draws near, so it is recommended to book your trip early.
Egyptian food revolves around the best elements of Mediterranean, French, and Middle Eastern cuisine. It may be overwhelming to find the rewarding dishes and drinks in Egypt's often chaotic streets. But if you know what to look for, you may even tap into a rich vein of Ancient Egyptian food traditions.
Go beyond pita, falafel, and kebab on your food journey, and dive deep into the authentic realm of Egyptian food with our Egypt food guide. Before you begin your tour, keep in mind these Egypt food tips:
* Egyptian restaurants serve lunch between 13:00-16:00 and dinner between 20:00-24:00.
* Exercise caution when buying refreshments in markets and bazaars, as tap water is not safe to drink in Egypt.
* If you are traveling during Ramadan, dinner hours may change in some restaurants. Although alcohol is available at certain restaurants, public drunkenness is not tolerable.
* Here are the top dishes of the Egyptian food scene that will help you eat like a local: Kushari, Hamam Mahshi, Shawarma, Ful Medames, Basbousa.
The best time to visit Egypt is spring and autumn when the scorching desert heat leaves its place to pleasant weather. March to early May and the entire autumn season are ideal times, especially if you want to enjoy the vibrant city of Cairo.
Since this is no secret, you should expect to see more crowds during these months. Summer is great for a Nile cruise and visiting the beaches of the Red Sea, as well.
Egypt's culture is a fusion of both ancient and modern, bound by a strong sense of community across the country. Egyptian traditions and culture stand amongst the oldest civilisations', and can be seen through impressive sites, architecture, and artwork. Throughout Egypt, family remains the most important link in the social chain, particularly among the Bedouin of the deserts. Tourism plays a crucial role in the country and Egyptians are friendly, open to other cultures and known for showing good hospitality towards tourists. Egyptians see their country as the gateway between Western society and the rest of the Arabian world. This mixing is most apparent in major cities such as Alexandria and Cairo where international franchises and traditional eateries stand side by side in a fusion of old and new.
Religion plays a big role in the life of Egyptians, and it is intermingled with daily activities of Muslims and Christians. Approximately 90% of the population are Muslim, and the way people dress and interact with each other is largely influenced by religion – it affects many parts of societal life, is permitted by the law and life entails daily prayer. The religious holidays of Ramadan and Eid are the most significant events for Muslims. A wide array of cultural norms, including how people dress and interact with the opposite sex, are influenced as such. In traditional homes, women are largely defined by their role as a mother and matron of the house, whereas men are expected to be the provider.
As a general guideline, we recommend wearing lightweight, comfortable, loose fitting clothing and walking shoes while travelling Egypt. Please also keep in mind that when visiting religious sites, appropriate attire is required. It is recommended to pack at least one set of modest clothing that covers both shoulders and knees, to be worn when visiting mosques and other religious complexes. A headscarf for women is necessary when visiting religious complexes in Egypt.
STAY IN STYLE IN CHARMING COMFORTABLE HOTELS
Knowing that your accommodation may separate a great holiday from a perfect one, we take ultimate care whilst hand-picking each location we host you. Only the truly exceptional in terms of comfort, character, amenities, location and service are suitable to our standards.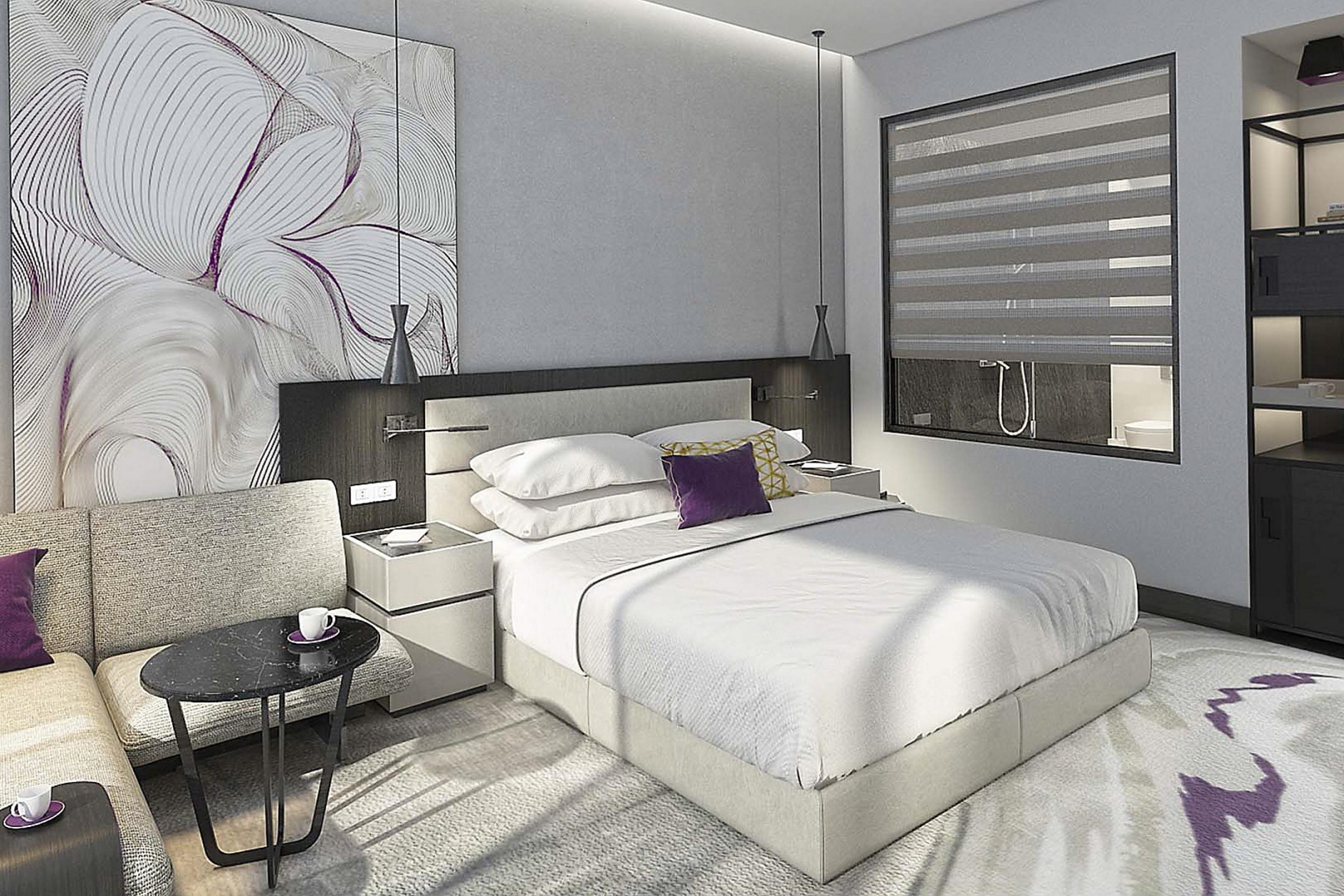 Crown Plaza Cairo West
Cairo
Located in the entertainment district, Crowne Plaza West Cairo Arkan, an IHG Hotel is a great choice for a stay in Sheikh Zayed City. The outdoor pool is a great spot to take a dip, and guests can grab a bite to eat at Mayrig, one of 3 restaurants, which serves international cuisine.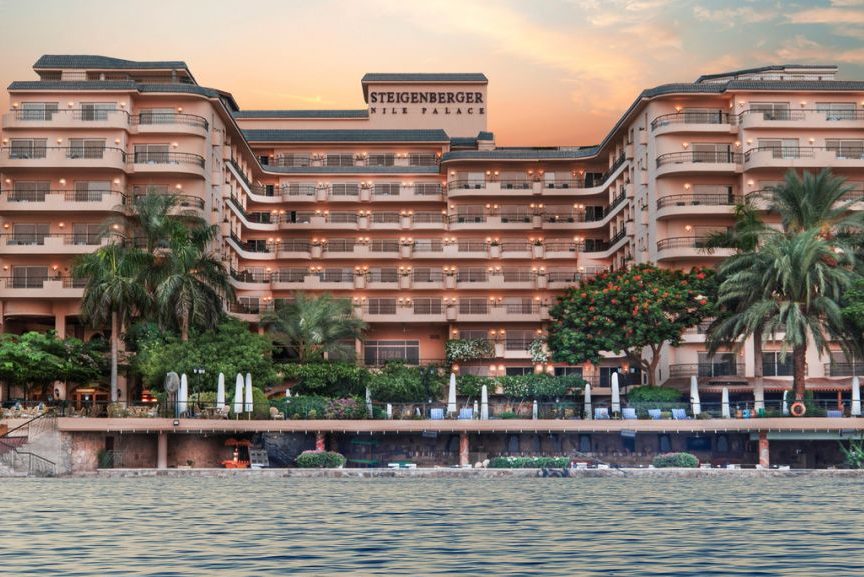 Steigenberger Nile Palace Luxor
Luxor
In the Egyptian city of Luxor, located right on the Nile River, the Steigenberger Nile Palace has its own boat dock. The Valley of the Kings and the famous Pharaoh's tombs lie on the other side of the river, about 26 km away. The international airport is about 10 kilometres away.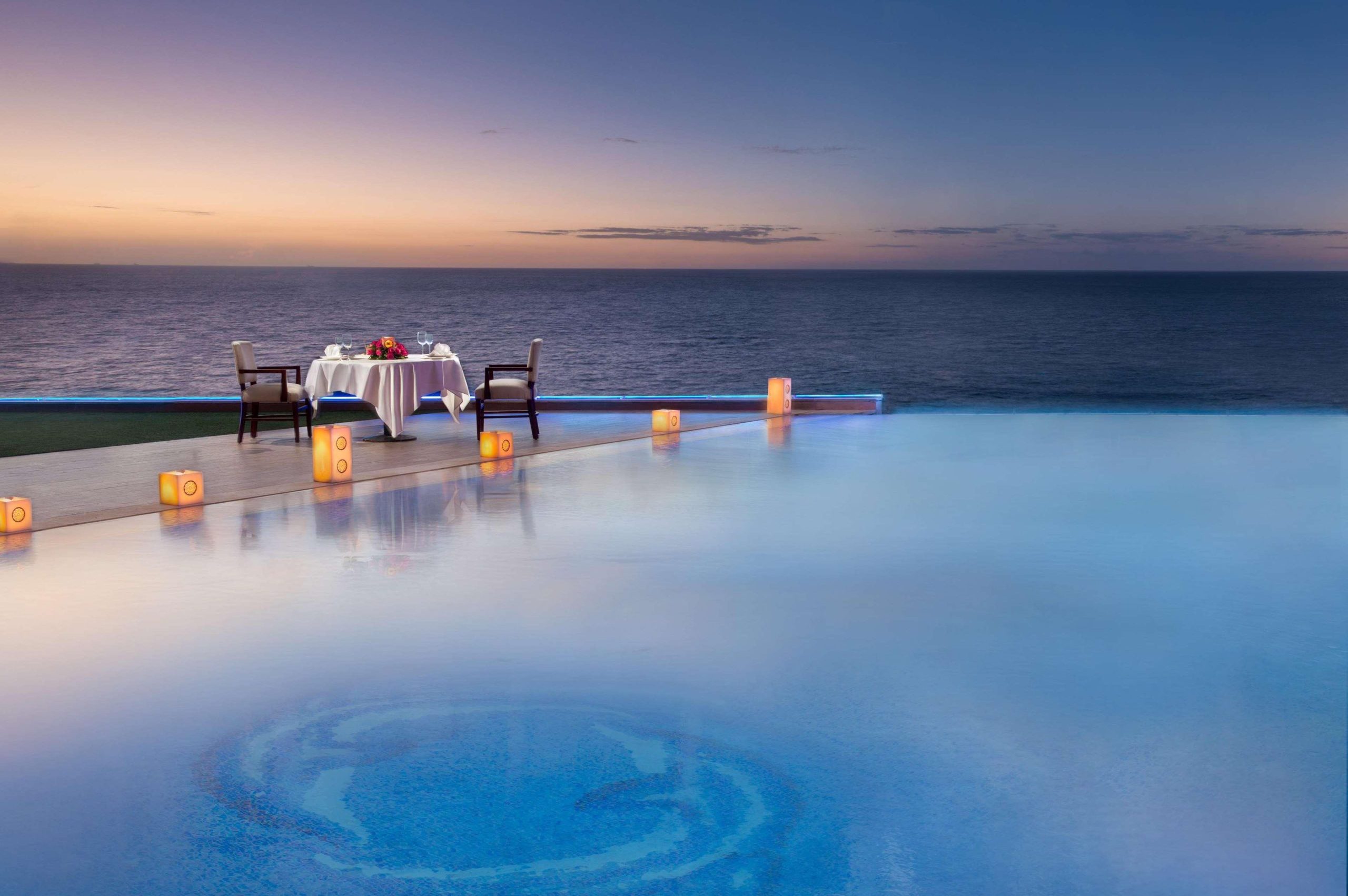 Hilton Alexandria Corniche
Alexandria
Boasting an ideal location in the heart of Alexandria, Hilton Alexandria Corniche features its own private beach and wellness facility. Guests can enjoy sea views from the panoramic pool terrace or indulge in various cuisines available at the 6 outlets.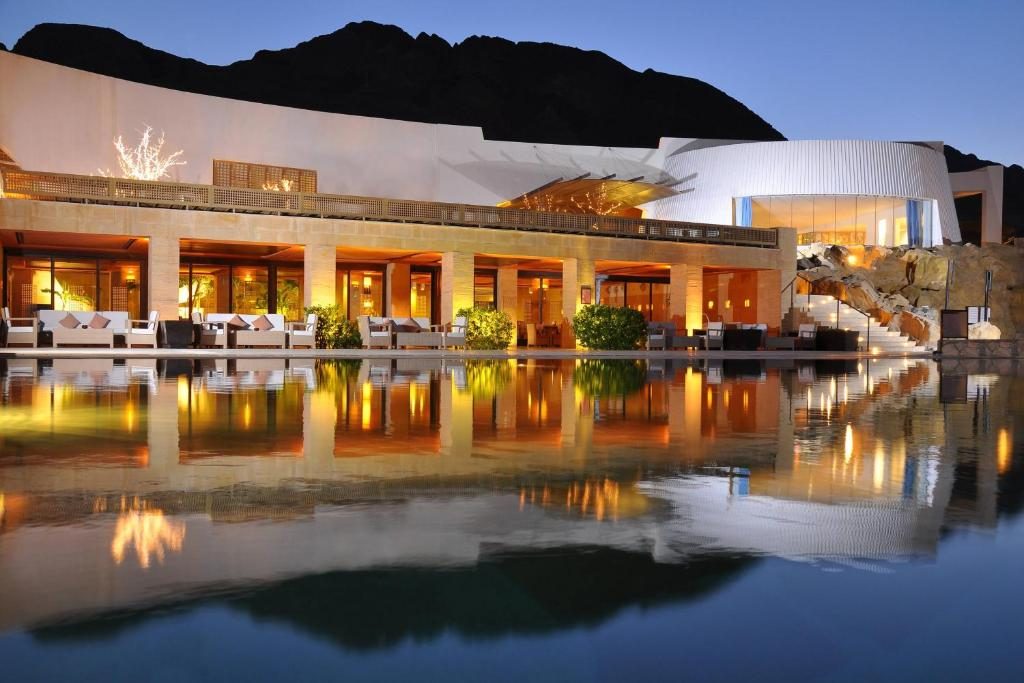 Le Meridien Dahab Resort
Dahab
Discover shimmering golden sands and swaying palm trees at Le Meridien Dahab Resort in Egypt. Overlooking the Gulf of Aqaba, our upscale hotel in South Sinai offers one of the best locations in the world for kite and windsurfing as well as for diving and snorkeling in the Red Sea.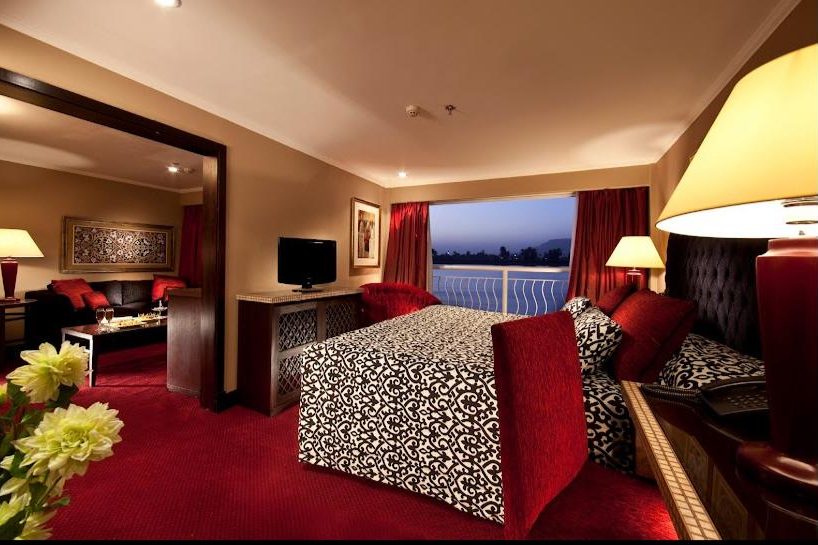 Steigenberger Legacy Nile Cruiser
Luxor & Aswan
Immerse yourself in the fascinating past of Egypt on the Steigenberger Legacy, sail the Nile on a cruiser in comfortable cabins with en-suite facilities.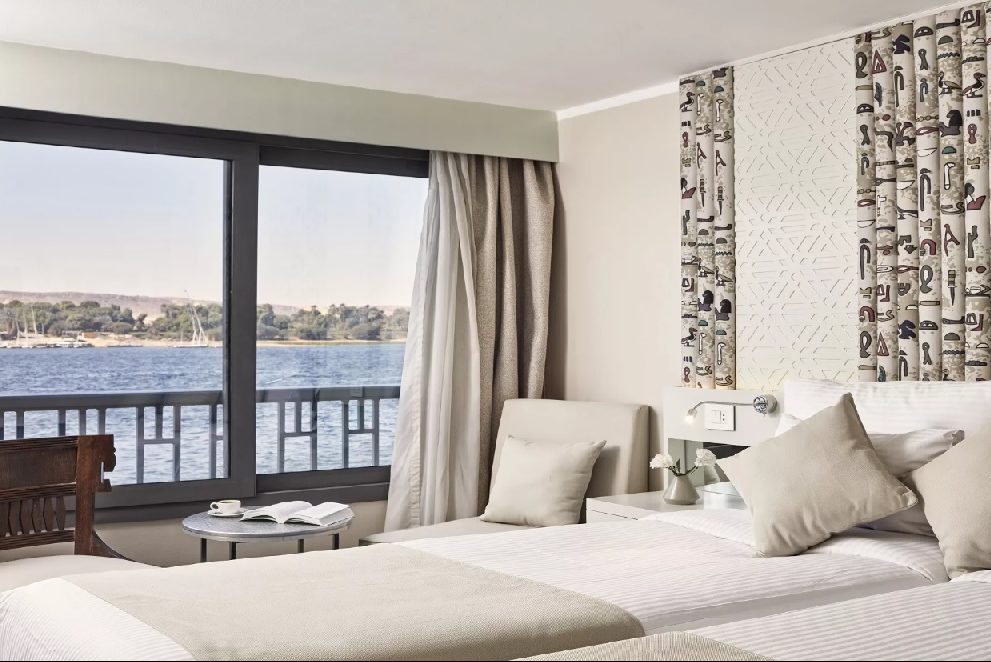 MS Tulip Nile Cruiser
Luxor & Aswan
Prepare yourself to touch the beauty and the greatness of the ancient Egyptians` wonderland and build a wonderful memory in a floating hotel experience between Luxor and Aswan.
MUST SEE SIGHTS IN EGYPT
Discover the fascinating highlights of Egypt and ride along the banks of the Nile.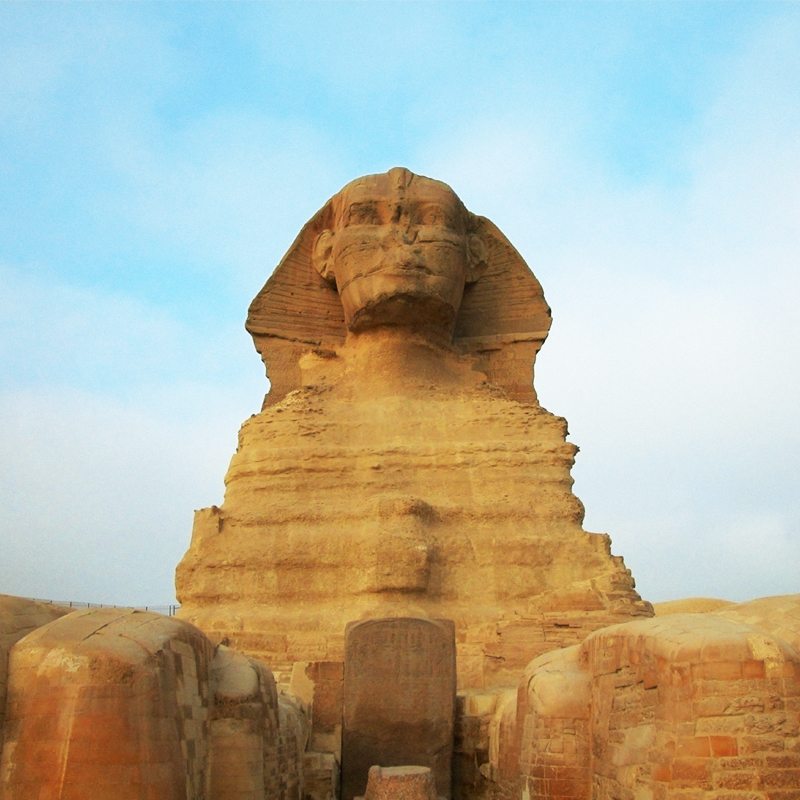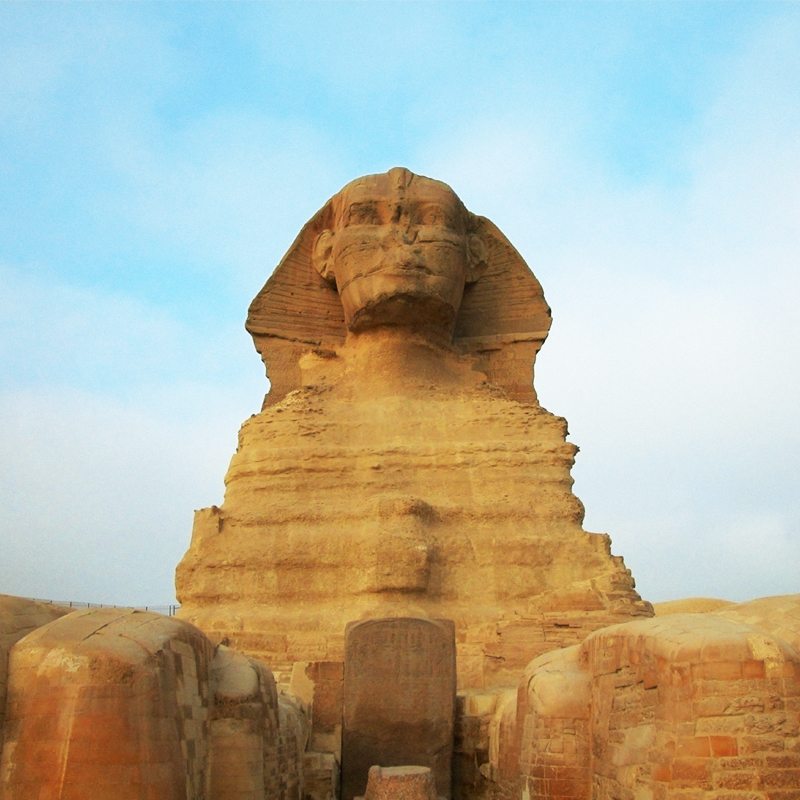 Cairo
With the Great Pyramids of Giza, ancient temples, magnificent monuments, and the Egyptian Antiquities Museum, Cairo offers an experience of a lifetime.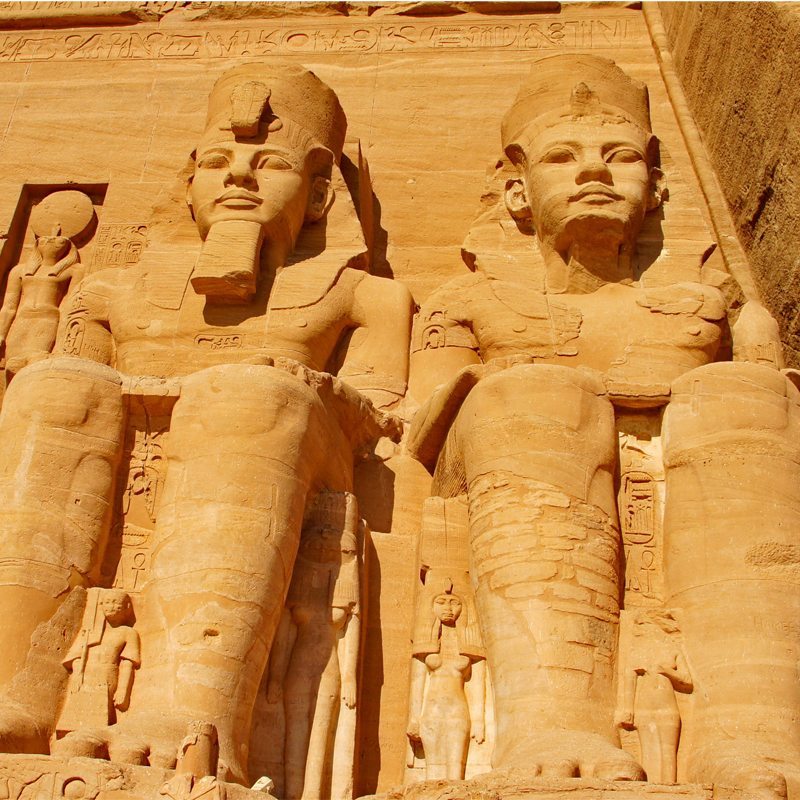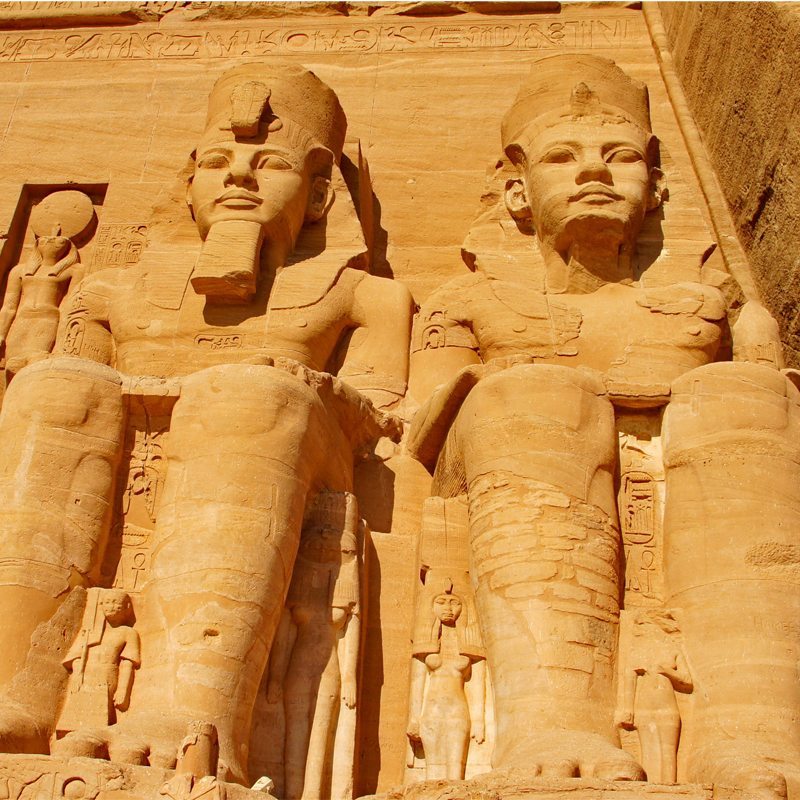 Luxor
A top travel destination in Egypt with a wealth of historic monuments and buildings bringing Egypt's fabled past to life. Luxor is called the world's greatest open air museum.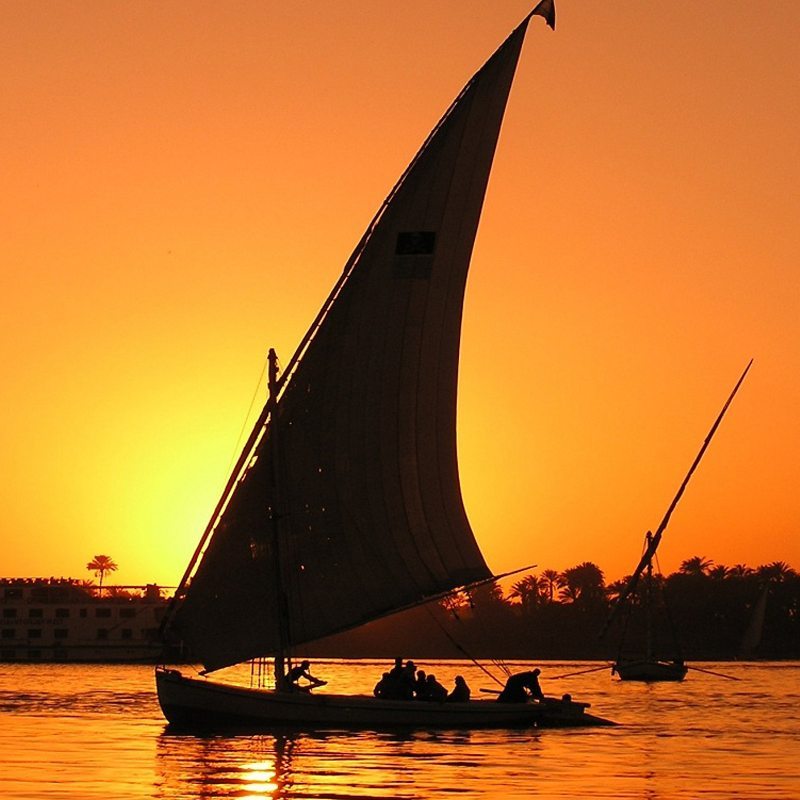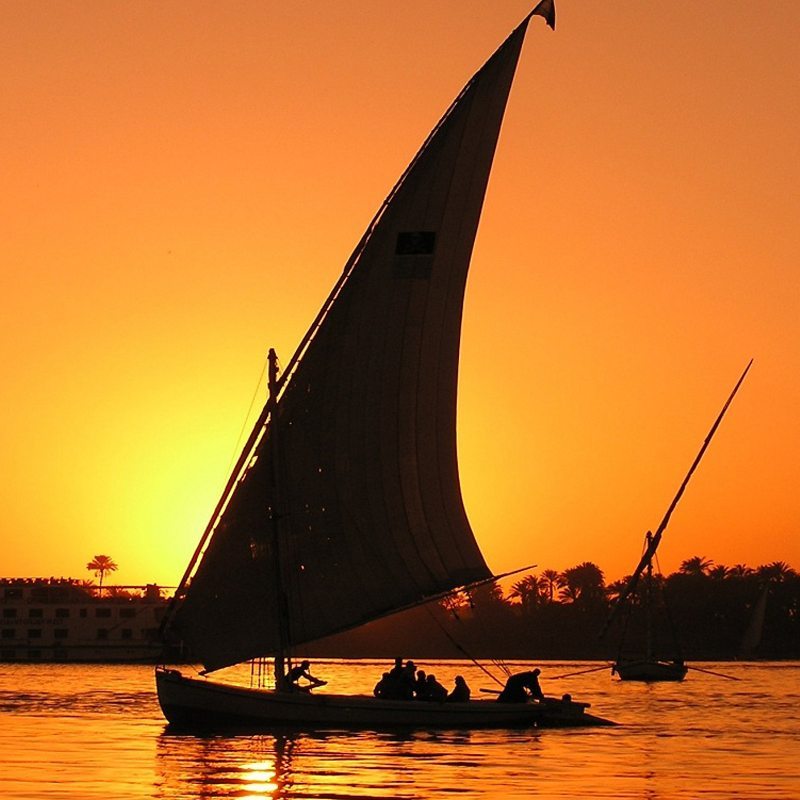 Aswan
Sunniest city of Egypt and a popular touristic stop for many cruises. The local market here is an excellent place to do some shopping and the best place to find Egyptian fresh spices.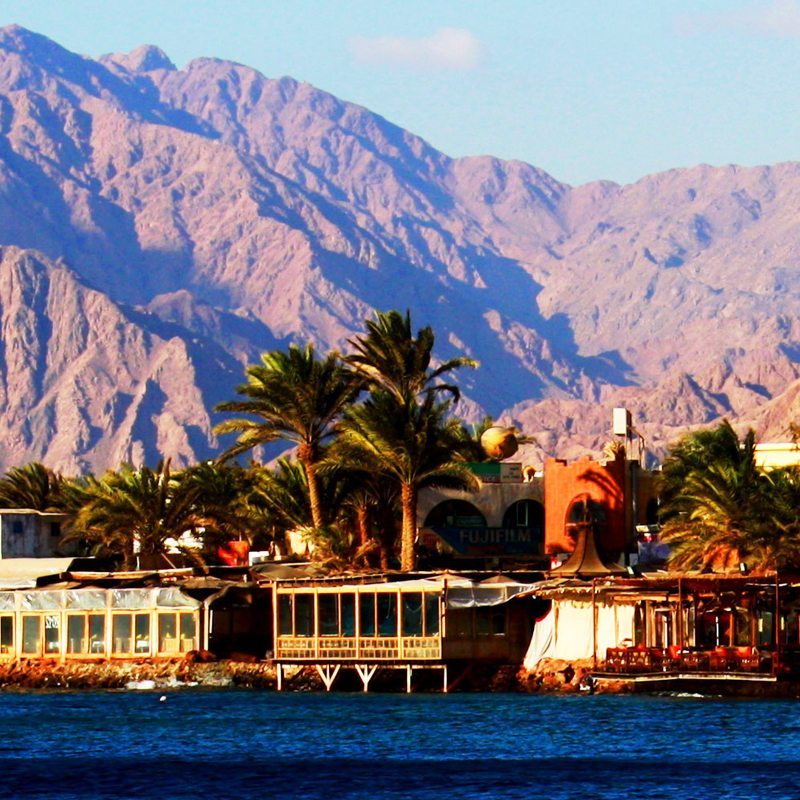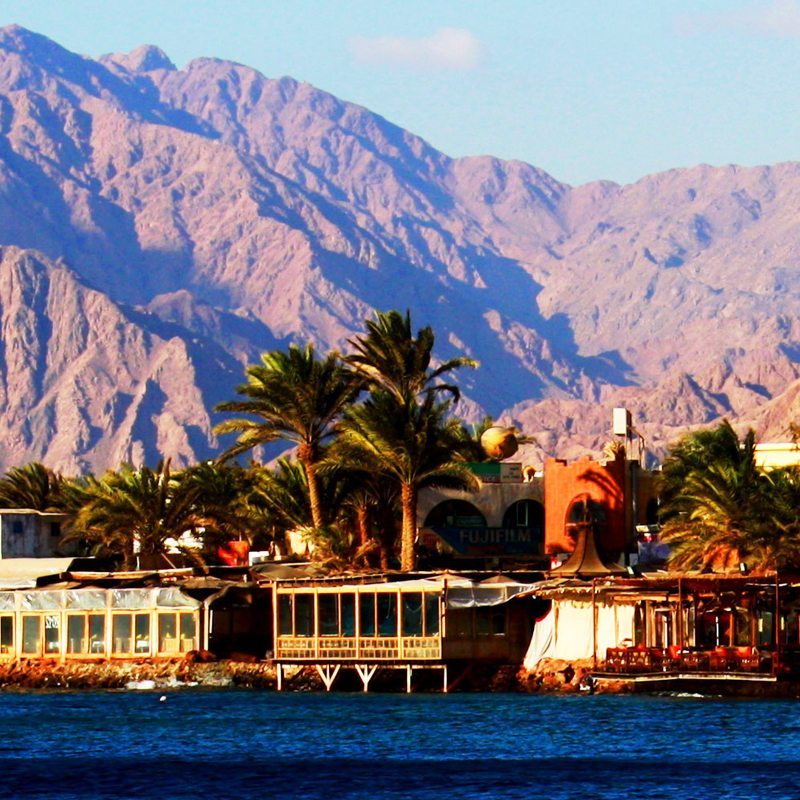 Dahab
"Gold" in Arabic, the city's name was inspired from the golden sands by the Red Sea coast. Dahab offers Oceanside dinners and crystal-clear waters for diving and snorkeling.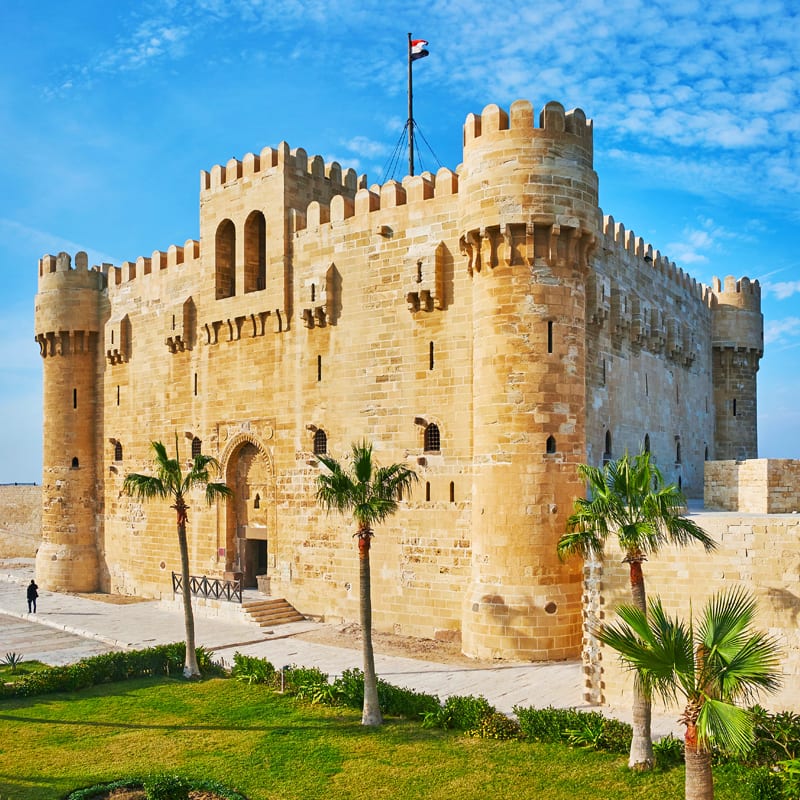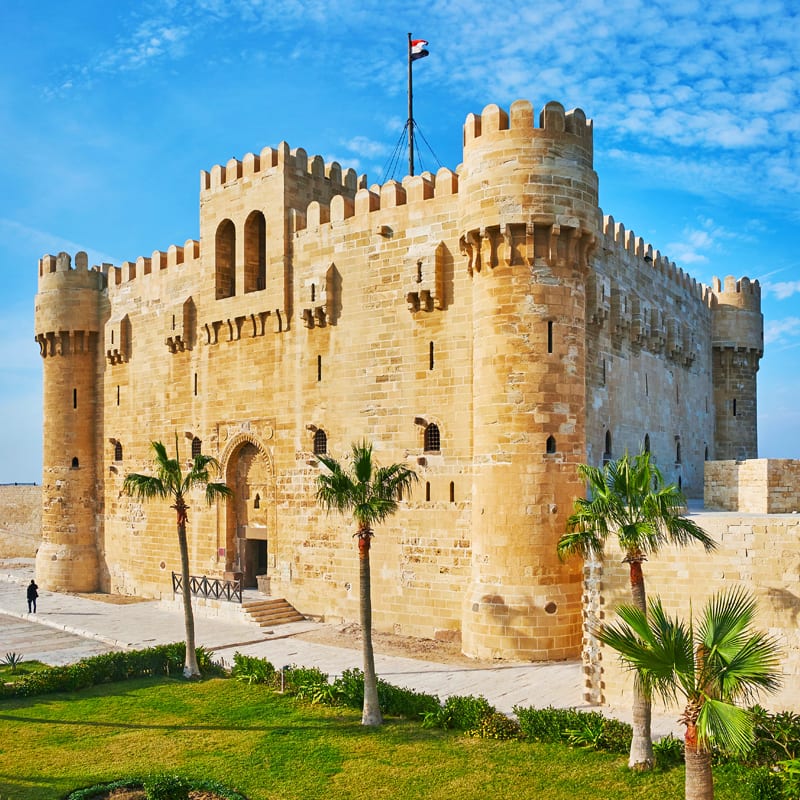 Alexandria
Alexandria is the second largest city in Egypt, it's more Mediterranean city than middle-east, it was also an important port town during the hellenistic time, most popular tourist attractive mark is it's Library.
FREQUENTLY ASKED QUESTIONS
Most visitors to Egypt are required to have a visa, which can be arranged through Egyptian consulates worldwide, online via the official website:https://www.visa2egypt.gov.eg/, or upon arrival at the Cairo International Airport. Visitors from the UK, USA, Australia, New Zealand, and the EU may purchase their visa stamp upon arrival in Egypt. South Africans need to arrange their Egyptian visa prior to arrival. Please note that single-entry tourist visa fee is USD 25 and it can only be paid in USD, GBP or Euro. Passport validity entry requirements: Travellers entering Egypt must have a passport valid for at least 6 months from your arrival date. This information is provided only as guidance, we strongly advise that you check with the consulate as this information can change at any time and with little notice. It is your responsibility to make sure that all the required travel documents are ready when travelling.
Yes, all passengers travelling with Ciconia Exclusive Journeys must have travel insurance before participating in any of our tours. Your guide will collect your travel insurance details on the first day of your trip. It is your responsibility to make sure you have an adequate and suitable travel insurance in place.
Internet access has become increasingly common in hotels, cafes and restaurants in large Egyptian cities, however the quality of connection differs. Many internet cafes can be found in the cities as well. Make sure to enable data roaming on your mobile if you wish to use 3G/4G abroad, although the connection may be unreliable in smaller towns and rural areas. Purchasing an Egyptian SIM card for the duration of your tour may be a cost-effective option. Your guide will be happy to advise on this.
Major credit/debit cards are widely accepted by large retailers, hotels and at touristic sites. However, small shops and vendors may not accept cards, we would recommend to carry cash with you for small purchases.
Private airport transfers are included on the first and last day of every tour in Egypt, or if you have booked pre- /post-tour accommodation in Cairo through us. You only need to inform us of your flight details (date, flight number, arrival time and name of travellers) at least 10 days prior to your arrival for your transfer to be arranged. You will be greeted by a Ciconia representative at the airport.
The welcome meeting will be held in the hotel lobby around 6pm with your group and guide. You can find the arrival information for Egypt tours here. If there is any change in your arrival hotel, we will send you an e-mail to inform you before the trip. Don't worry if you will miss the welcome meeting on Day 1 as some travellers arrive late in the day - just make sure to let us know in advance.
Our tours do not include airfare to/from the destination, and we do not advise on, ticket or sell flights. It is your responsibility to make it to the starting point of your tour on time.
If you provide your dietary requirements at the time of booking, we will do our best to make the necessary arrangements where available. You can leave a comment under the "Notes" section when making an online booking or simply contact us. Please note that gluten-free & vegan options are quite limited in the country.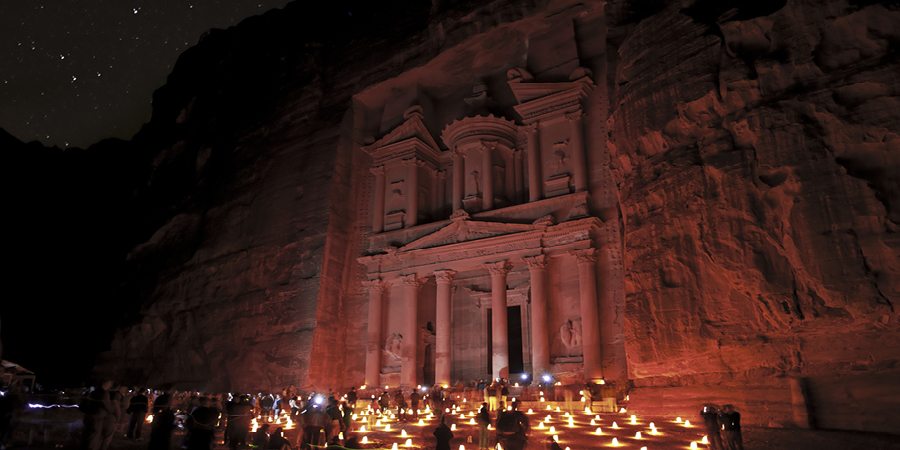 FEATURED POST
Petra, one of the New 7 Wonders of the World is a representation of Jordan and theref...
November 8, 2019